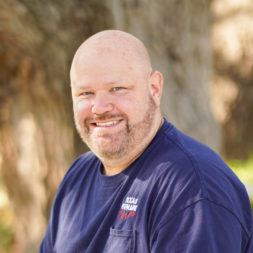 Jeff Struchtemeyer | Chief Executive Officer
512-260-3602 ext. 111
Jeff spent 12 years working in the financial and banking sector as a registered broker before moving into the nonprofit arena. He has spent the last 18 years working for a variety of nonprofits such as Switchboard of Miami and the National Domestic Violence Hotline located in Austin.
He moved to Austin in December, 2015
Has one dog named Niobe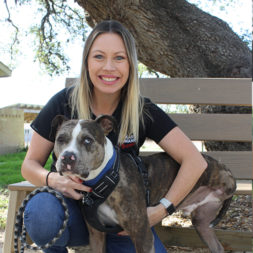 Laura Acton | Chief Operating Officer
512-260-3602 ext. 106
In 2015, Laura left her career in restaurant operations to pursue her passion of working with animals. She started at Texas Humane Heroes in 2016 and is excited to grow with this organization.
From Buena Park, California
Loves to cook and travel
Has one dog named Braxton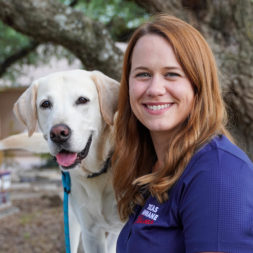 Teryl McFerrin | Director of Development
512-260-3602 ext. 101
Teryl joined Texas Humane Heroes in 2019 to build philanthropic support and community investment. Prior to joining the team, Teryl led fundraising efforts for a local nonprofit and worked in Development at the University of Texas at Austin.
From Buda, Texas
Lives in Austin with her husband and two young children
Has one dog named Case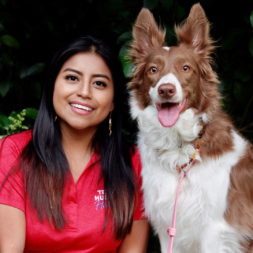 Daysi Yeates | Marketing and Events Manager
512-260-3602 ext. 102
Daysi joined Texas Humane Heroes in 2019 to help grow the Texas Humane Heroes brand, marketing, and events. She is excited and passionate about working with a great organization. Previously, Daysi was a Marketing Producer at a local Austin news station.
From Comfort, Texas
Has one dog named Ailee
Loves playing the dog sport, flyball, with Ailee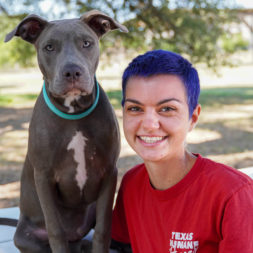 AJ Jones | Foster/Surgery Supervisor
512-260-3602 ext. 122
From Monroe, LA
Has two dogs, Martian and Riley, and two cats, Meta and Ripple, and one snake, Typhon
Enjoys camping and hiking with her husband and dogs in the summer, and baking and painting in the winter.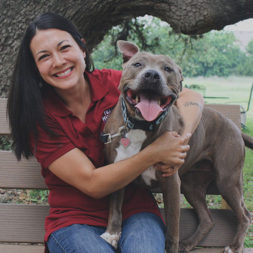 Brie Brehm | Senior Adoption Center Manager-Leander Location
512-260-3602 ext. 107
From San Diego, California
Is also a registered yoga teacher, stand up paddle board yoga teacher,
and clinical nutritional counselor
Has a dog named Girta and two cats named Oscar and Cleo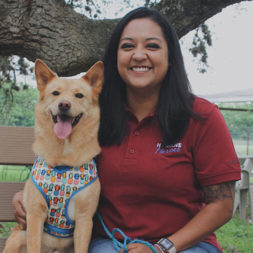 Connie Flores | Senior Adoption Center Manager- Killeen Location
512-260-3602 ext. 502
From Temple, Texas
Is a new mom and loves spending time with her daughter
Has two dogs, Ranger and Bubbles
Jessica McCoy | Clinic Supervisor
512-260-3602 ext. 104
From Weatherford, Oklahoma
Crazy about smooshy face dogs and paints in her free time
Has four dogs, Lex, Hanzel, Scarlett, and Sky, one cat named Astro,
and a horse named Leif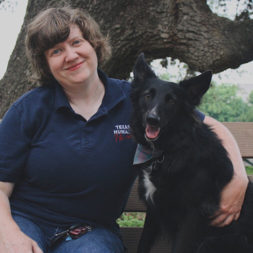 Caitlin Cravey | Intake Manager
512-260-3602 ext. 113
From Abilene, Texas
She runs an all ladies Dungeons and Dragons group
Has three dogs, Jessie, Bitsy, and Amelia, a cat named Samwise, and eight snakes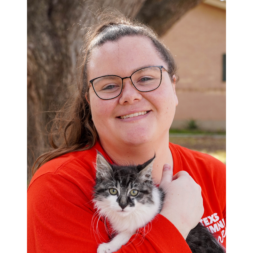 Madeleine Edwards | Volunteer Coordinator
512-260-3602 ext. 110
From Corvallis, Oregon
She taught English in Argentina in 2019 and then moved to Austin a year ago. She loves spending her weekends exploring the area with her fiance.
No pets yet but she's looking forward to bringing one home from Texas Humane Heroes soon!
Jessica Scanlon, President
Chris Tinnell, Vice President
Rob Klepner, Treasurer
Mary Ward, Secretary
John Gallagher
George Grammas
Don Grenier
Mickey DiPietro
Shannon Haas
Stu Scally
H.R. Strickland
Gregg Newcombe
Lorie Renegar
Amy Noack