Jeff Struchtemeyer | Chief Executive Officer
512-260-3602 ext. 111
Jeff spent 12 years working in the financial and banking sector as a registered broker before moving into the nonprofit arena. He has spent the last 18 years working for a variety of nonprofits such as Switchboard of Miami and the National Domestic Violence Hotline located in Austin.
He moved to Austin in December, 2015
Has one dog named Niobe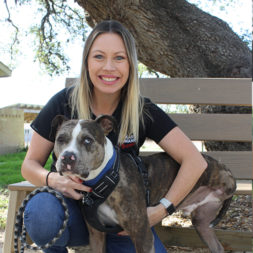 Laura Acton Furiani | Chief Operating Officer
512-260-3602 ext. 106
In 2015, Laura left her career in restaurant operations to pursue her passion of working with animals. She started at Texas Humane Heroes in 2016 and is excited to grow with this organization.
From Buena Park, California
Loves to kayak and hike with her husband
Is a mom and stepmom to six awesome kids and has a three-legged dog named Braxton
Carolyn joined TXHH because it is a progressive organization that aligns with her mission, and that we're a shelter that provides services to the community that are greatly needed.
Before TXHH, Carolyn was mainly doing work at private clinics and high-volume spay/neuter clinics, as well as several nonprofit before that. She's been working with animals since she was 13 after she started volunteering at her local animal shelter.
She has 2 daughters, ages 9 and 4, along with 4 dogs, a cat, and many fish… not counting foster animals
She was born on Halloween, her favorite holiday
She's originally from Florida and has lived all over the state. She went to UF for undergrad, (Go Gators), and yes, there really are a lot of actual gators there 🐊
Rebecca Tait | Director of Development
512-260-3602 ext. 114
Rebecca has over 20 years of experience in development.  She has worked at several universities mostly recently at the University of Georgia's College of Veterinary Medicine.  She loves the mission of Humane Heroes.
From Mobile, AL.

Enjoys working out and watching her boys play sports with her husband.

She has 2 cats named Joe and Jules that are siblings and a dog named Otto aka Boo Boos.
Brie Brehm | Director of Medical Services
512-260-3602 ext. 107
Brie joined Texas Humane Heroes in 2015 and has helped amplify our operations. Before that, she was in the field of Social Work as a therapist in a hospital in San Diego. Brie has worked in animal rescue and welfare for 23 years in various positions.
From San Diego, California
Enjoys traveling, hiking, and yoga.
Has one bulldog puppy and 4 cats.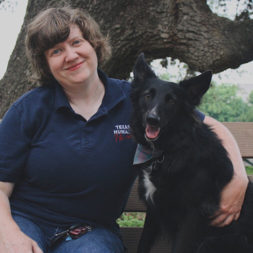 Caitlin Cravey | Intake Manager
512-260-3602 ext. 113
From Abilene, Texas
She runs an all ladies Dungeons and Dragons group
Has three dogs, Jessie, Bitsy, and Amelia, a cat named Samwise, and eight snakes
Shelby Chesshir | Senior Adoption Center Manager
512-260-3602 ext. 101
Grew up in Round Rock, Texas
Loves going to concerts, paddle boarding, hiking, and hockey games.
Proud owner of Arya the Doberman and Murphy the tabby cat
Rob Klepner, President
Chris Tinnell, Vice President
Vickie Menchhofer, Treasurer
Amy Noack, Governance Officer
Mary Ward
Nikki O'Donnell
H.R. Strickland, Founding Member
George Grammas, Founding Member