Bruno on a hike with dedicated volunteer, Tatiana. March 28, 2021
V.I.P Dog, Bruno, Stayed 432 Days At Texas Humane Heroes
Bruno was well known at Texas Humane Heroes for being our longest staying dog, 432 days. At a normal intake animal shelter, Bruno would have likely been euthanized, but we knew we would be able to find him the perfect home.
He arrived in our care in May 2020.
"Oh, he won't be here for even a month!" said staff. "He's so handsome!"
Bruno is a big dude, with an even bigger brain. He was getting bored in the shelter environment, which caused him to act out. His leash skills weren't the best, he was kennel reactive and would get overstimulated easily. Visitors would walk by and express interest, but the meet and greets never had any spark.
Starmark Academy reached out to help some of our VIP dogs with their behavior issues, and Bruno was one of the chosen dogs to go. They planned to take Bruno, and others, to their training academy for four months to help their overall behavior to help them become more adoptable. After four months, Bruno came back to our Leander Adoption Center and showed a lot of improvement! But after a few weeks, he went back to reverted back to his old bad habits.
Later, he would go into foster with a dedicated volunteer, Tatiana, for a couple of weeks to give him a break from the crazy shelter life.

Bruno and Tatiana
"Bruno has stayed with us for 17 days," said Tatiana. "His progress was nothing short of amazing. Wish somebody could witness it."
Once Bruno arrived back from foster, his training went back to square one again. With all these training sessions, we knew he was a very intelligent boy. All Bruno needed was someone who was committed to his training regimen.
One-Year Anniversary at Texas Humane Heroes
Never did we expect him to have a year anniversary at our Adoption Center.

Bruno at his special 1-year Anniversary lunch with volunteers: Gregg, Jen, Tatiana, and Larry
But on May 4, 2021, volunteers and staff took Bruno on a well-deserved outing to the lake. He received lots of attention and love and even a home-cooked meal! We went Facebook Live to bring attention to our longest-staying dog, hoping that someone would finally see the best of him.
Sparks Fly
Some staff members had been talking to a gentleman named Joe about possibly fostering Bruno, and at the end of May 2021, Bruno did a very special meet and greet with Joe and his dog, Jake.
The meet and greet went phenomenal; both dogs played well together and Joe seemed smitten with Bruno. So we prepared him to go into foster!

Preparing Bruno for foster
Bruno had been in foster homes before, but it just never seemed to work out. We had a good feeling about this one though; Jake even looked like Bruno's twin. We were so ecstatic for Bruno, and as we said our tearful goodbyes, we could tell this foster was different.

Bruno heading into foster with Joe
We all knew that it could be work for him to fit well into the home. Joe wanted a dog who would be able to work with his lifestyle; visiting many different types of environments and seeing many different people. In the first few weeks in the home, Bruno was was learning how to be part of the family and Joe wanted to work with Bruno through the weeks of the good and the bad. There were weeks when Bruno was confident, happy, and then times when he was very insecure. Joe was absolutely devoted to him and his training. He didn't want to fail and give in easily.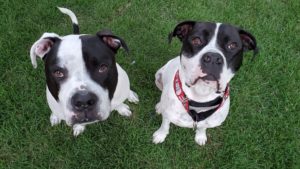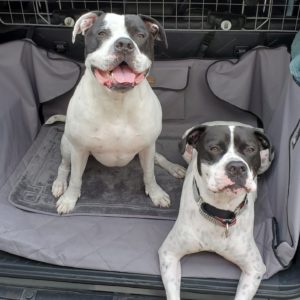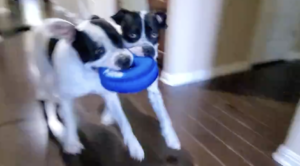 After a month and a half of photo and video updates, Joe finalized the adoption on July 10th. This date was an important day for Joe — it was the 7th anniversary of Ripley, his previous dog's, adoption. He wanted to adopt Bruno on July 10th to honor his memory. From one beloved pet to another, Joe continued to see more than just a chaotic, bored shelter dog. He saw a loyal, quirky, big-hearted (and big-headed), Bruno.

Bruno's personalized food bowl
Bruno now has a place in his forever home. A perfect orange food bowl with his name permanently labeled on it. Every day Bruno, Joe, and Jake are learning more about each other. It could take a year until he's fully trained, but Joe has told us he's not one to ever throw in the towel. He has faith in Bruno and Bruno in Joe.
"There's no magic wand, no snap of a finger for a perfectly trained dog," said Joe. "It takes time and commitment."
Joe was ready for it through and through. Bruno is now filling into his body, his skin and ear issues have been resolved, and he's looking as handsome as ever.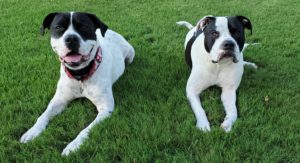 Bruno and Jake
We never gave up on Bruno. And he was able to find a forever home because of staff, volunteers, and members of the community who advocated for him on a daily basis. It means a great deal when we have received multiple messages asking about Bruno and hoping he's doing well because we know it's not just our staff who cares about him, it was everyone.
Thank you to everyone who shared his story and believed he would find his perfect and forever home.