Why Fostering Animals is Important
Fosters allow Texas Humane Heroes to save more lives by taking in more animals than we can actually house at our facilities. When fosters open up their homes to our animals in need, they provide them with adequate food, shelter, and much needed socialization. Fosters give us more opportunities to save more lives.
What Foster Opportunities Exist?
The animals we send into foster care are puppies and kittens that are too young to be spayed/neutered. These puppies and kittens might be newborn bottle babies, or they could need fostering for just a week. We also send pregnant/nursing mom dogs/cats into foster so that they do not have to give birth or raise their babies in a shelter environment.
---
What to Expect
"My favorite part of fostering is when you take in a foster who has had a rough past, and through lots of patience and love, you can finally get them to see a different life. The first time they return your affection never leaves you. It is amazing to see their demeanor change from scared and sad to one of happiness and love. Knowing you've given them a new chance at life and have set them up to find their forever home, is priceless."
"I am often asked how I can return foster kittens after their foster time is up. Some are definitely easier than others but at the end of the day there are always more kittens that need help."
"I cannot thank you enough for allowing me to foster. Not only do I have the opportunity to help an animal in need, but I am very proud to say we had a "foster fail" - our latest foster dog is now our forever dog. If it were not for the support and generosity of Texas Humane Heroes, we would never have our sweet Simon. "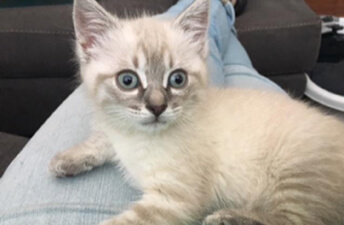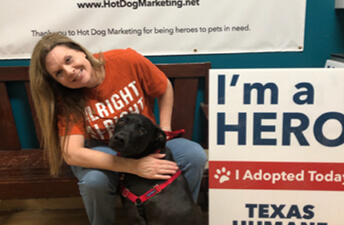 How to foster an animal?
Who can foster with Texas Humane Heroes?
Email foster@txhh.org.
A foster manager will send an application via email to be filled out online and sent back. Once the application has been reviewed and approved, you will be added to the foster contact list to receive foster emails when animals come in that need to go to foster. Must be over 21.