Many of the dogs at our Adoption Centers don't tend to stay too long, but there are a select few pups, who have a hard time finding their forever people. Chocolate Chip and George have both been at Texas Humane Heroes for a full year, and our staff is saddened to see these quirky boys still in our care. We wanted to share some helpful information about Chocolate Chip and George in hopes of finding them their forever homes.
Chocolate Chip

Chocolate Chip out and about in Leander, Texas
Two-year-old Chocolate Chip arrived at our Leander Adoption Center on September 15, 2020. One year later, and his goofy grin still greets us. He is a dynamic pup who has a lot of love to give, and with that love comes an undying loyalty that makes him protective of his favorite people. Being in a chaotic shelter environment can be very stressful on dogs, and he has shown kennel reactivity. However, our staff works diligently to help improve his behavior. He's a smart boy who is willing to work hard so he can become the best version of himself. And he has certainly come a long way! He has improved so much with his training and would love to find a family who would be willing to keep it up.
Chocolate Chips Perfect Home

He'd be perfect for an active home, with older teenagers, and a doggy friend who could match his energy. He's a rough player and definitely would benefit from an owner with training experience so they can better understand his behavior. While he is an energetic pup who requires patience and understanding, he is also a cuddle bug who just wants to be loved. And there is so much to love about Chocolate Chip.
George

George at Lake Devine in Leander, Texas
On September 19th, George will have officially been in our care for a whole year. This handsome two-year-old dude has a lot of personality, but his larger build and higher energy levels make it difficult for him to find his forever home. He is 65lbs of love and fun!
It's amazing to see how truly different a dog can be outside of the shelter. He can be kennel reactive and loud at the shelter but at the lake, he was taking his time smelling the new scents and enjoying the sun and breeze! He's not too food motivated but bring out the cooked chicken and he's all yours! Our dedicated volunteer, Tatiana, hid the chicken in trees to get his nose and brain active. It's a great dog enrichment game for him!
George's Ideal Home
He loves his brief time out of the shelter, but he'd love even more to be with his forever family. He's definitely a dog with a lot of energy and would benefit from a home that can take him on lots of adventures. He needs a home with no young children and no small animals. He can be a rough player so he needs a playmate that understands his playing style. He loves to play fetch and play with his tug, so be prepared to have lots of fun with him. Don't worry though, he knows how to have a snooze marathon. He can be seen chillin' in his outside kennel, sunbathing on his bed.
Foster, then Adopt!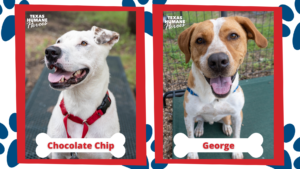 Both handsome boys are available for our foster-to-adopt program to make sure it's a perfect fit. So experience for yourself why we love Chocolate Chip and George so much and give them a chance at a happy, forever home. Visit them at our Leander Adoption Center and ask a staff member for more information. Let's find them the perfect homes!